About
Candida Stationery is a leading envelope manufacturer in Australasia.
Founded in Auckland in 1976, we are a privately owned family business. Almost 40 years on, we employ close to 200 staff and have branches across Australia and New Zealand.
Our commitment to delivering only the highest quality products means we are constantly investing in new technology. We are always looking for ways to improve and grow as a business
We've always been big on really listening to our customers and their unique set of needs and then providing the best possible solution for them.
We recycle everything we can and have done since 1976. Because it's the little things (like how we use motion activated lighting) combined with the big things (like how we recycle all of our waste) that can make a real difference.
We combine years of experience with new technology to produce products of the highest quality.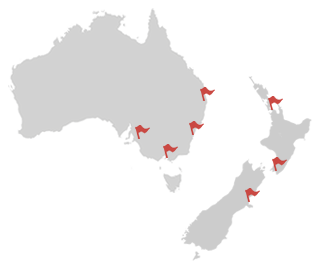 The Candida Story
Move your mouse over the timeline to read our story.
1974
Klaus Girardet arrived in New Zealand from Germany with his wife Dagmar and their three daughters. Prior to his arrival, Klaus worked in the printing industry in Europe and the US. His family newspaper was the first in Germany to use a computer within the business for typesetting advertising, distribution and editorial purposes.
1975
Klaus and Dagmar started Candida from their home (initially to produce high quality calendars). Klaus chose the name 'Candida' after the classic newspaper printing typeface. The name is derived from the Latin word 'candid' meaning white, bright and frank.
1976
Candida began producing envelopes, and developed the Candida Metric Standardisation System (CMSS) to streamline office paperwork by using standard size envelopes.
1978
Candida opened it's first Australian office in Sydney.
1979
Candida built their factory and office on a three hectare site on Constellation Drive in Mairangi Bay, Auckland.ᅠStage VII followed as Candida Office Park.
2000
Candida began manufacturing envelopes in Australia.
2001
Candida introduced the innovative ECHO reusable envelope which became widely popular in New Zealand.
2002
Candida expanded into Brisbane.
2006
Candida moved to a purpose built facility in Sydney, Australia.
2010
Candida expanded into Melbourne by purchasing a Print2mail - an existing offset printing company.
2011
In a joint venture Candida established Southern Cross Papers, a specialist paper and packaging trading company.
2013
Candida innovated envelope printing again with the introduction of offset quality on a high speed flexo machine.
2016
Expanded into South Australia with the purchase of E S Wigg & Sons, an envelope manufacturer that had been operating in Australia for 150 years.
Caring for the Environment
Here are some of the ways Candida is helping to create a more responsible environment.
Candida is an ISO 9001 accredited company. We choose suppliers who have ISO 9001:2000 levels of Quality Management Systems and ISO 14001 levels of Environmental Management Systems.
Candida holds two Chain of Custody certifications for responsible paper use, PEFC™ & FSC®. This means we can trace the paper in our envelopes back to source, thus ensuring that the forests used are being managed ethically and responsibly.
More information on PEFC™ and FSC® is available at their respective websites.
Envelopes
Whether you're looking for a cost effective solution or wanting to print an envelope that's truly unique, Candida can help.
Choose from our range of plain stock envelopes or get creative and design your own.
Our envelopes can be printed before, during or after manufacture - each method has it's own benefits.
With new print technology we can print photo quality, full bleed images on gloss or matt stock. What's more - it's quick and it's cost effective.
Ask what our new flexo printer can do for you.
Plain Stock Envelopes
If you're looking for a cost-effective envelope solution - then Candida stock envelopes is your answer.

We have a large range of plain envelopes. From small 9s to jumbo E35's and everything in between. Our stock envelopes come in a variety of matt arts, white bonds, kraft and recycled papers.
For more information on our range of plain envelopes, give us a call or send us an email.
Printed Envelopes
New technology opens up a world of possibilities.
CMYK plus up to 4 spot colours
Accurate colour matching
Sharp, photo quality images
Matt finish
Gloss stock
With our envelope optimised offset printing presses we can print photo quality, edge to edge images on glossy stock.
There's no minimum order and delivery is usually within 10 days.
Sound expensive? We think you'll be pleasantly surprised.
Talk to us about order quantities and turnaround times.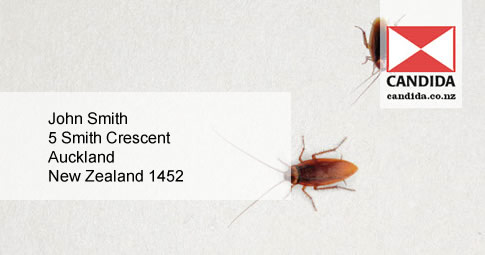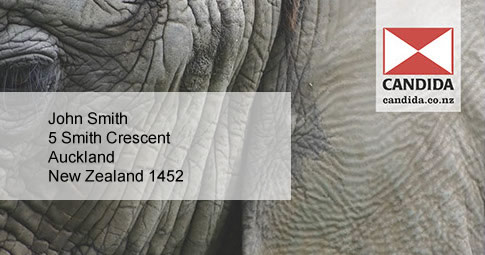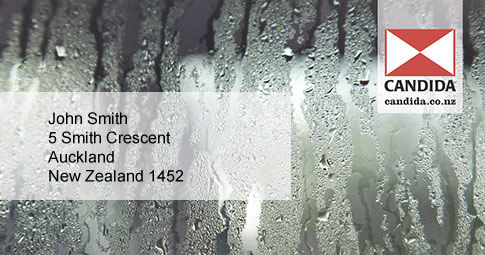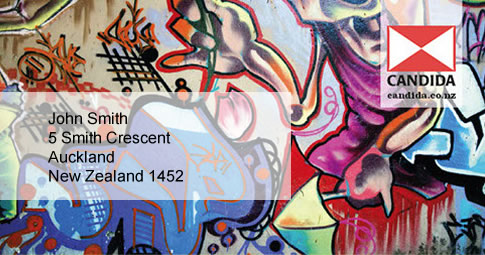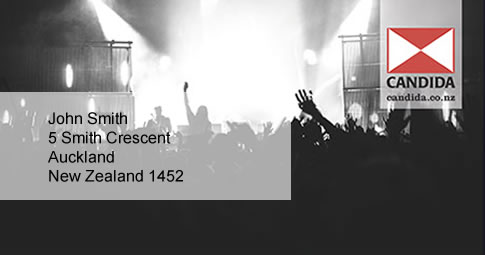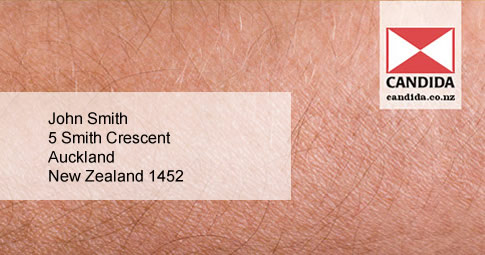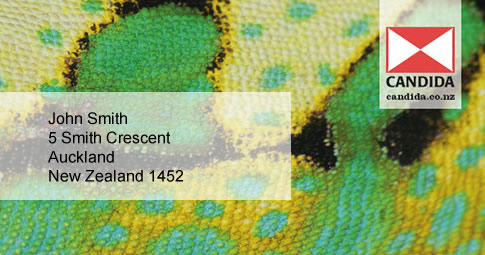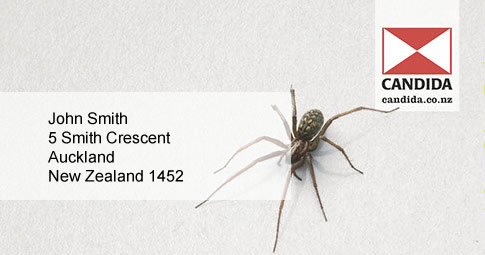 Custom Envelopes
If we don't have what you want, we'll help you create it.
You can vary the size of your envelope, get creative with the window position, use fancy paper or even supply your own printed sheets.
Ideal for direct mail campaigns. Just let us know what you want to achieve and we'll figure out the best way to make it happen.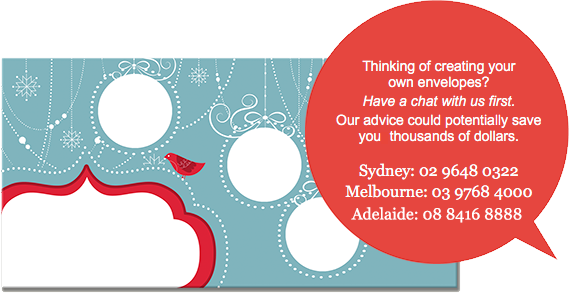 Guidelines & Tips

MAILHOUSE GUIDELINES
Cut your mailing costs by choosing the right envelope.
You can save hundreds of dollars simply by using an envelope suited to mailhouse equipment. Makes sense doesn't it.
Our envelopes are made to whizz through mailhouse machines, meaning less time and less hassle for everyone.
Before you order envelopes for mailhouse use, check first if the mailhouse is using hand or mechanical insertion. For mechanical insertion, envelopes must be tropical seal (we even have a choice of outside or inside side-seams).
WINDOW POSITION
Standard window positions on our stock range cater for most business needs. However, windows can be positioned in a variety of places, vary in size, shape and number, and be on one side of an envelope or both. Talk to us about your special requirements.
STORAGE
Envelopes are best stored in a cool, dry, ventilated place. This is especially important for self seal envelopes as the glue is sensitive to light and open air conditions. Store in a sealed box to protect from dust and light (in the outer carton where possible).
POST GUIDELINES
Your postal provider has useful information about sending bulk mail on their website. We have provided links to these pages here:
CANDIDA STATIONERY LTD
AUCKLAND - HEAD OFFICE
55 Constellation Drive, Mairangi Bay
PO Box 31 147, Milford
Auckland 0741, New Zealand
WELLINGTON
Level 1, 3 Barnes Street
Seaview
Lower Hutt 5010, New Zealand
SYDNEY
Unit D3, 3-29 Birnie Avenue, Lidcombe
NSW 2141, Australia
PO Box 470, Sydney Markets
NSW 2129, Australia
MELBOURNE
36-42 Produce Drive
Dandenong South
VIC 3175, Australia
ADELAIDE
60 Kinkaid Avenue
North Plympton
SA 5037, Australia
P +61 8 8416 8888
F +61 8 8352 1905
Virtual Factory Tour
Take a virtual tour of our main manufacturing facility in Auckland (Tamaki Makaurau) New Zealand (Aotearoa)